A Smart Learning Reboot for the New Semester
Mansoor Al Awar: 'The blended delivery model is the yield of 18 years of continuous innovation in infrastructure ensuring comprehensive smart learning for future innovators.'
Successful combination of synchronous and asynchronous learning signals a leap towards creating a generation that is technologically and scientifically qualified to lead progress and development.
Accredited bachelors', masters' and doctoral degrees delivered with the blended smart learning model. Learning becomes anytime and anywhere starting from Fall 2020.
Dubai, UAE, August 26, 2020 – In a unique achievement that marks the culmination of 18 years of innovation and leadership as the first hub of smart learning in the UAE and the Arab world, Hamdan Bin Mohammed Smart University (HBMSU) announced a first-of-its-kind 'Blended Delivery Model' that signals the start of higher learning using the latest technological innovations, a move that falls in line with the UAE's efforts to ensure the continuity of the educational process in a rapidly changing world.
HBMSU has revealed that it will be receiving learners for the Fall 2020 semester with a new look based on a 100 per cent fully balanced and advanced smart learning model across all of its bachelors', masters' and doctoral programs. The move is aimed towards consolidating the university's pioneering position as an influential force in directing the re-engineering of the future of learning and education while also building an innovative educational system that transforms learners into globally competitive innovators instead of just recipients, in line with the objectives set forth in the National Agenda of UAE Vision 2021.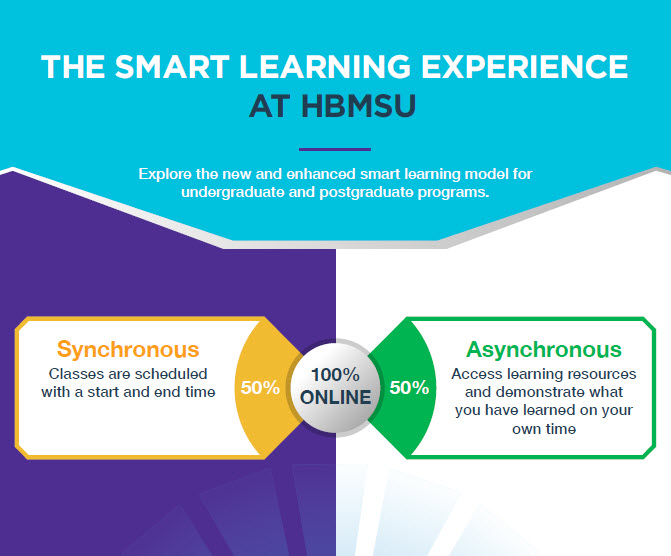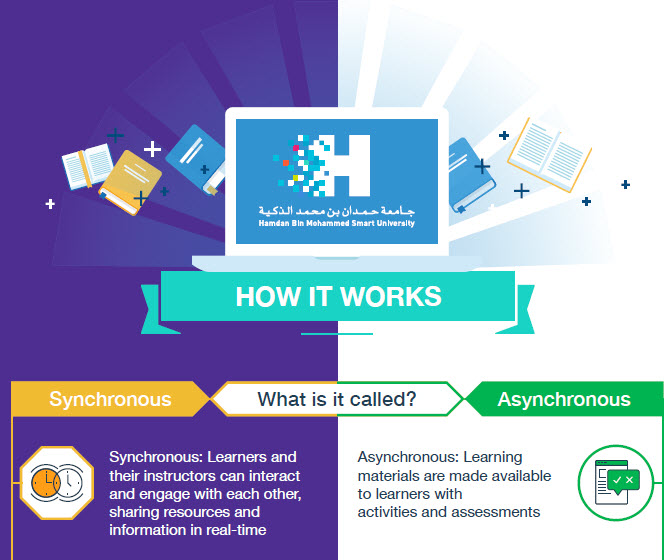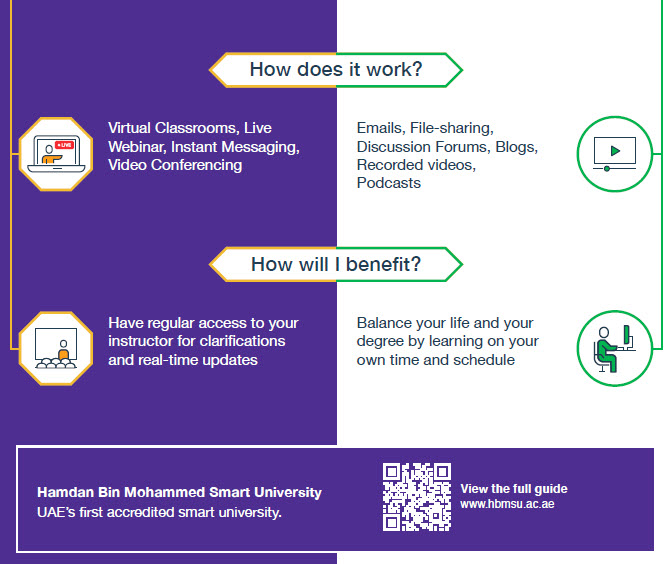 The newly introduced Blended Delivery Model combines synchronous and asynchronous learning based on a 100 percent smart and balanced framework that ensures better learning for future innovators and creators via new learning methods. The synchronous learning aspect of the model is applied in live virtual classrooms and is viewed as a base in the move to strike a balance between life's obligations, study requirements, and learning in a timely and appropriate manner. Whilst the asynchronous learning (independent learning) method keeps open communication between learners and professors to receive updates and learning materials in real-time.
In Asynchronous learning, which is 50% of the time of the classroom, learners and instructors can interact and share resources and information without the constraints of time and place. As for Synchronous learning, which is the other 50% of the classroom time, sessions and lectures will be held in real time according to a specific timetable and based on a creative and intelligent methodology that will enable new generations to lead the efforts to achieve comprehensive development for the future.
Dr. Mansoor Al Awar, HBMSU Chancellor, explained that the UAE has been scoring key achievement in ensuring the continuity of education and business, even in the midst of the coronavirus (COVID-19) pandemic. This can only be achieved with forward-looking vision of the country's wise leadership, investing solely in the development of advanced technical infrastructure across various sectors, including the education. Al Awar pointed out that HBMSU has proven its forward vision in building on smart learning, which has been proven success in supporting continuity of education during this global crisis.
Al Awar added, "The launch of this new and advanced 100 percent blended smart learning model is the result of our proactive efforts over the past two decades, which is ably reflected in the range of quality achievements that we have gained from reshaping the future of higher education based on three key pillars: innovation, disruption and transformation. Our success comes in line with the wise directives of His Highness Sheikh Hamdan Bin Mohammed Al Maktoum, Crown Prince of Dubai and HBSMU President, when he directed toharness, adopt and employ technological innovations to enhance the foundations of learning and spread a culture of smart and lifelong learning, the strongest guarantee for the continuation of the educational process in light of the emergency conditions and the rapid changes that the world is facing."
Al Awar added, "From our position as the first accredited smart university in the UAE, we continue to play our pivotal role as a supportive arm in the move to provide new, equitable and comprehensive education, offering lifelong learning opportunities for all and bearing in mind the importance of bringing change to the established rules governing traditional education. We also continue to provide a unique educational experience via the use of modern technology; restructure the role of learners and faculty members; and manage curriculum and educational environments to achieve our ambition of building generations of innovators, knowledge ambassadors, decision-makers, and builders of the future."
Al Awar concluded, "We look forward with confidence to this new and unique model, which will lay the foundation for sustainable learning during normal and urgent n conditions according to a fully intelligent framework that meets the needs of learners at any time and place. Our achievements will not stop at this point, but rather continue to move forward in the advancement of education by taking advantage of technology and information revolution. Therefore, we are fully prepared and ready for the next fifty years with a, a generation that is scientifically, cognitively and technologically capable, working under a spirit that loves to reach the summits and does not recognize the word impossible."
The new blended delivery model is based on the use of a variety of learning techniques aimed at presenting digitized content and learning materials. The design is aimed at engaging and enhancing the skills and competencies of learners, ensuring that learning outcomes for all courses are achieved using effective designs of learning materials and elements of supportive learning and digital learning content, specifically in personalizing the learner's experience and facilitating direct access to educational resources, anytime, anywhere. The synchronous learning process will take place in the virtual classrooms and will take advantage of all the features of the virtual classroom, including the use of audio and video chat, file and screen sharing, individual and group discussions, webinars, instant messaging, video conferencing, interactive stories, various interactive media and applications, as well as a variety of tools and techniques that provide a high-quality educational experience and enable learners to learn with their peers in the virtual classroom.
HBMSU intends to facilitate asynchronous learning based on a diverse portfolio of tools, including email, file sharing, discussion forums, blogs, and e-wallets. It will also make use of other advanced resources such as podcasts, recorded videos, presentations, simulations, and educational games, to ensure a very enjoyable, interactive learning experience.