MoU contributes to building leaders and qualified national staff
Dubai, UAE, November 4, 2015 –
Dubai Smart Government Department (DSG) has signed a memorandum of understanding (MoU) with Mohammed Bin Rashid School of Government. Under the MoU, the government partnership will be bolstered through exchange of knowledge and best practices at all levels and the streamlining of corporate communication channels between the two organizations.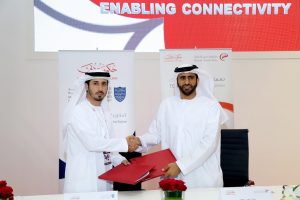 Dubai Smart Government Department (DSG) has signed a memorandum of understanding (MoU) with Mohammed Bin Rashid School of Government.

The partnership will extend to fields such as training, education, leader preparation and empowerment programmes. It will also enrich the knowledge content of educational and training activities with practical government administration experiences, expertise and scientific research to support government performance. It will also enable the best government practices to be documented and disseminated, particularly those related to regionally and internationally reputed foundations with the aim of ensuring continuous development of excellence in the government sector.

This was announced during the signing ceremony of the MoU between H.E. Ahmad Bin Humaidan, DSG Director General, and H.E. Dr. Ali Sebaa Al Marri, Executive President of Mohammed Bin Rashid School of Government (MBRSG). According to the MoU, a joint committee will be formed to follow up the implementation of its articles in the most optimal manner.
Expressing his happiness about signing the MoU, Bin Humaidan said: "Based on DSG's strategy aimed at enhancing its employees' smart skills as a basic element for building an enabled environment that would contribute to achieving our strategy, we are keen on training our employees, keeping them abreast of the scientific progress updates that serve their scope of work and familiarizing them with the latest innovations that help fulfill the vision and trends of the prudent leadership, particularly HH Sheikh Mohammed Bin Rashid Al Maktoum, Vice President and Prime Minister of the UAE and Ruler of Dubai, for Dubai to become the smartest city in the world."
Bin Humaidan added: "Signing this MoU with MBRSG is a step towards building effective knowledge-based partnership relations between the two parties, enabling DSG to benefit from MBRSG's experience in this field as this will reflect positively on enriching the knowledge of our employees and building qualified staff as per the world's best standards."
Meanwhile, Al Marri said: "We are pleased to sign this MoU, which is aimed at training and empowering DSG staff at all administrative levels with a view to building leaders and qualified national staff and helping them achieve advanced levels in corporate excellence. We also seek to benefit from DSG's distinguished development and accumulated experiences as well as its employment of many best practices to enrich our knowledge-based content for the benefit of all our partnering government entities."
The curriculum will feature training courses in creativity, innovation and smart management based on MBRSG's role in enhancing the strategic vision of Dubai Government and the UAE, which prompts development and transformation to smart government, according to Al Marri. He also noted that the courses would be worked out as per the highest academic standards through which leaders would be prepared to face work challenges, own the ability to evaluate them, take the right decisions as government officials and enrich those courses with interactive activities, best practices and success stories from an elite group of UAE leaders.