Cloud-ready content to be available in three languages & accessible across all platforms & devices
UAE, June 19, 2016 – Hamdan Bin Mohammed Smart University (HBMSU) has announced that it has been commissioned by Al Ahli Driving Centre, a Dubai-based driving school to develop an interactive online version of its theoretical lessons to enhance existing training and registration processes. The contract was signed at the HBMSU campus in the presence of Dr. Mansoor Al Awar, Chancellor of HBMSU and Emirati referee Ali Bujsaim, Chairman of Al Ahli Group.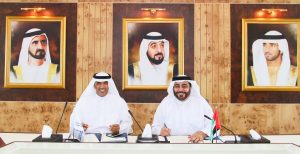 Dr. Mansoor Al Awar, Chancellor of HBMSU and Emirati referee Ali Bujsaim, Chairman of Al Ahli Group
Under the terms of the agreement, HBMSU will make the content available in three languages – English, Arabic and Urdu – and host them on the Cloud where they can be accessed via all platforms and devices. The university will also develop a system for displaying the Centre's courses and produce videos with HTML5 content covering eight (8) lessons. Each session will take up 45 minutes of learning time, inclusive of evaluation and assessment, and will incorporate animation and graphics as well as a presenter to add a personal, interactive touch.
HBMSU will provide a state-of-the-art platform for hosting the content which will feature tracking and reporting functions and integrate with existing learner registration and course navigation systems.
Dr. Mansoor Al Awar, said: "Driving is a common yet important activity that affects our personal, professional and social lives. Our agreement with Al Ahli Driving Centre will help make driving practices clearer, safer and more broadly adopted by eliciting higher interest, participation and feedback from learners who will benefit from interactive sessions that are further enriched by assessments. It will also enhance the Centre's registration, processing and course delivery to provide a more convenient and fulfilling experience for customers. We look forward to applying our vast eLearning experience to driver training through this agreement."
"Our new eLearning platform will enable our learners to access instructional materials anytime and anywhere, at their own pace and convenience, in coordination with the Center. The interactive versions of our lessons that we have commissioned HBMSU to develop can emphasize key aspects of driving better than traditional classroom methods. Moreover, the extended automation of our registration and training are in step with Dubai's ongoing 'Smart Transformation.' This agreement is a major step towards optimizing the training and operational efficiency of our institution," added Bujsaim.
HBMSU's agreement with Al Ahli Driving Centre forms part of its ongoing efforts to apply its expertise in high-quality, innovative and research-driven 'smart' learning to everyday living to create a productive and responsible knowledge-driven Arab society.